Creativity, Spunk and a Whole Lot of Flava…
The Lick is a mobile mom and pop shop founded by husband and wife duo, Theron and Rania Jamison. When they hired a neighborhood ice cream truck for their son's second birthday and saw how much of a crowd favorite the truck was with the kids and fellow parents, the concept of The Lick was born. Soon thereafter, Theron began creating his own remixes of popsicles to raving reviews from family and friends as Rania advocated for more people to be introduced to the iconic water ice that was a staple of her childhood in Philadelphia.
What started as a frozen supplement to family gatherings and an outlet from the demands of life as a teacher, turned into the new community fave – The Lick. The Lick brings you joy while keeping you cool wherever the fun is. From wedding receptions to corporate events, The Lick pops on the scene with good vibes and better flavas!
Meet Our Pop-preneurs
Theron "The Popologist"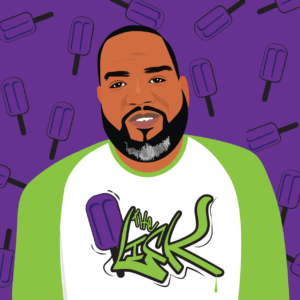 The mogul and musical phenom, Sean "Jay-Z" Carter once said, "I've got screws loose. I pull words out the air like Bluetooth". His obsession with creating innovative ways to lace words together, earned the rapper fame and the legacy as one of hip hop's all time greatests. Theron Jamison, an English teacher by day and hip-hop enthusiast by nature, can relate to the lyrics. He, too, possesses a love for words over a rhythmic beat – and is a natural wordsmith. It makes perfect sense that Theron created his own concoctions of what he believes is a blend of culinary rhythm and poetry. After creating frozen treats for his family and friends at family functions, buzz grew around the delicacies and ultimately sparked the idea behind his brain baby, "The Lick". When Theron is not splitting his time between his classroom and brainstorming new flavors for The Lick, you may find the husband and dad, knee-deep in his other favorite pastimes. An avid sneakerhead and ###, do not be surprised if you also catch the Popologist making his family blush with a hilarious joke at their expense.
Rania – The Poparazzi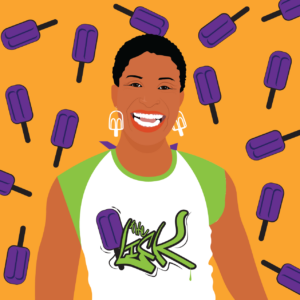 "Connected with conviction"- these words are often used to describe Rania Jamison, the other half of the mind behind The Lick. The public relations and political consultant spends most of her day strategizing and executing solutions for her clients. Naturally, she is a master visionary and planner. Therefore, she could not ignore her husband's niche for arousing their friend's taste buds at gatherings. The West Philadelphia native, Rania, otherwise known as The Lick's Poparazzi, is always seeking out new partnerships and ways to shine the spotlight on members of The Lick Nation. A radiant member of the Midlands of South Carolina, Rania dedicates most of her time to philanthropic causes and community empowerment. A board member and trailblazer for several nonprofits, she calls The Lick her break away from being Superwoman. When Poparazzi is around be prepared for her to make you feel like a celebrity and ask to snap a picture of you enjoying your taste of The Lick.
Blaize – Chief Inspiration Officer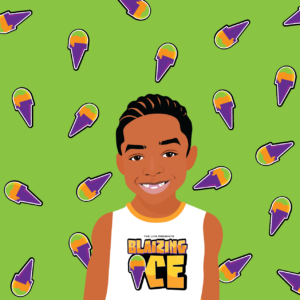 What would The Lick be without a Chief Inspiration Officer? If you let Blaize tell it, he directs the most important aspect of the company's quality control department — or as his parents would say, "taste testing". Blaize is the inspiration behind the beloved Blaizing Ice. Blaize is the youngest executive of The Lick, but a vocal trustee of the business, nevertheless. With an innate ability to connect with young and old, Blaize is a customer fave! When he's not tasting the latest flavor, Blaize is breaking the norms for kids his age. As a master Lego builder and pogo stick pro, you may want to bring a pen when you meet this kid… His next move is UP!